News
Casey Hollins joins Hammonds, Sills, Adkins, Guice, Noah & Perkins
04/25/2023 12:00 AM
Louisiana civil defense litigation firm continues to rapidly expand key practice groups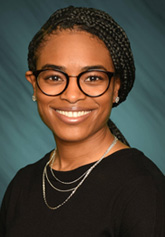 Baton Rouge, LA – April 25, 2023 – Hammonds, Sills, Adkins, Guice, Noah & Perkins, L.L.P, a civil defense litigation law firm, welcomes Casey Hollins, former Staff Attorney to the Honorable William "Will" Jorden, 19th Judicial District Court, Baton Rouge, LA, to the firm. A 2021 graduate of Southern University Law Center, Casey will be working in the Municipalities and Litigation section of the firm from the Baton Rouge office.
"Casey is a wonderful addition to our team and joins us at a time of growth – from employment and municipal law, and of course, legal representation of school boards, we are growing in most areas," said Managing Partner Alejandro 'Al' Perkins. "Casey figured out early on that taking the time to be active in your community, whether through working for public officials or via leading non-profit organizations will help distinguish your career. Her relationships and experience supporting our Mayor President, the Honorable Sharon Weston Broome, will be very helpful to the municipal clients we serve.
Originally from New Orleans, Casey received a Bachelor of Arts degree from Louisiana State University where she was on the Dean's list. She earned her law degree from Southern University Law Center. She is licensed to practice in Louisiana.
Casey now resides in Baton Rouge. In her free time, she loves to sing, exercise, read and she's a newlywed who loves to spend time with her husband Joseph Hollins.

About Hammonds, Sills, Adkins, Guice, Noah & Perkins
Founded in 1989, Hammonds, Sills, Adkins, Guice, Noah & Perkins is a prominent, full-service law firm providing comprehensive legal services to businesses and individuals in Louisiana. From its offices in Baton Rouge, Bossier City, and Monroe, business savvy attorneys with the firm provide legal services to more than 50 of the public school districts in Louisiana and to numerous insurance companies and private clients throughout the state. Our experienced litigators handle both jury and non-jury trials with great success rates for private and public clients. Legal services rendered by the firm include all levels of public school law, private and public employment law and claims, litigation and administrative hearings in State and Federal courts, insurance defense, construction contracts and claims, worker's compensation matters, medical malpractice defense, public records request, open meetings law, constitutional law claims, mediation services, and other general civil business matters.