News
Hammonds Sills Welcomes 9 Law Clerks for Summer 2023 Program
03/23/2023 9:42 AM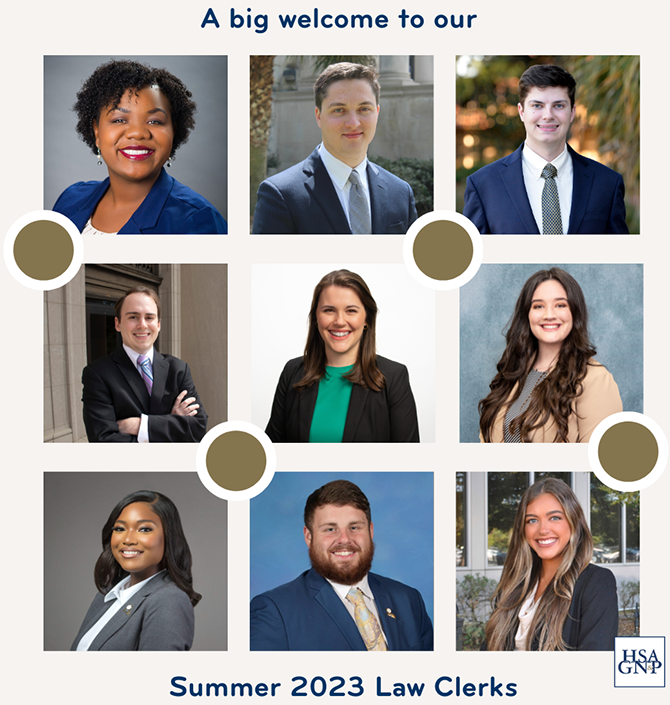 Baton Rouge, LA – March 23, 2023 – Hammonds, Sills, Adkins, Guice, Noah & Perkins, L.L.P, a civil defense litigation law firm, welcomes its largest class of summer law clerks to date - a total of 9 summer law clerks who will work at the firm's offices in Baton Rouge and Monroe, LA offices.
The firm-wide immersive clerkship experience is designed to apply legal education concepts to real-world scenarios over a 4-6 period. Working close with associates and senior partners, our 2023 law clerks will work across all practice groups at HSAGN&P. Law Clerks can assist with all aspects of investigating cases and preparing cases for trial.
The following law clerks have been assigned to the Baton Rouge office:
Kris Bromley – 1L – LSU
Nathan Long – 2L – LSU
Chelsea Young – 2L – SULC
Ethan Dupree – 1L – LSU
Carlar Scott – 2L – SULC
Parker Wiltz – 2L – SULC
The following law clerks have been assigned to the Monroe office:
William Wood – 1L – LSU
Madison Woodhead – 2L – Mississippi College
Cameron LeDoux – 1L – SULC
"I really look forward to welcoming our summer clerks – they are all academically accomplished, resourceful, and savvy young professionals. It's my sincere hope that the on-the-job training they will receive here will be invaluable as they pursue their legal careers," said Managing Partner Alejandro 'Al' Raeshod Perkins. "Several attorneys at HSAGN&P have started out in the Law Clerk Program, including those now at the partner level. This program gives motivated professionals a chance to learn more about the practice areas they find interesting and build their professional network."
- END -
About Hammonds, Sills, Adkins, Guice, Noah & Perkins
Founded in 1989, Hammonds, Sills, Adkins, Guice, Noah & Perkins is a prominent, full-service law firm providing comprehensive legal services to businesses and individuals in Louisiana. From its offices in Baton Rouge, Bossier City, and Monroe, business savvy attorneys with the firm provide legal services to more than 50 of the public school districts in Louisiana and to numerous insurance companies and private clients throughout the state. Our experienced litigators handle both jury and non-jury trials with great success rates for private and public clients. Legal services rendered by the firm include all levels of public school law, private and public employment law and claims, litigation and administrative hearings in State and Federal courts, insurance defense, construction contracts and claims, worker's compensation matters, medical malpractice defense, public records request, open meetings law, constitutional law claims, mediation services, and other general civil business matters.
For more information:
Melanie Farrow, Office Manager
225-923-3462
mfarrow@hamsil.com