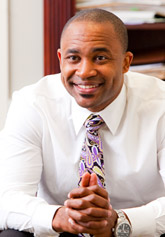 Courtney T. Joiner
Baton Rouge
2431 South Acadian Thruway, Suite 600
Baton Rouge, LA 70808

(225) 923-3462
cjoiner@hamsil.com
Contact by Email »
Joiner's
Areas of Practice
Mr. Joiner is a graduate of University of Louisiana Monroe where he earned a B.A. degree in December 2002 and a M.A. degree in May 2004. He received his J.D. degree in 2007 from Southern University Law Center, Baton Rouge as a magna cum laude graduate and was the Editor-in-Chief of the Southern University Law Review.

From September 2007 until August 2009, Mr. Joiner was employed as an associate with the law firm of Sidley Austin, LLP in Chicago, Illinois. In that position, he represented banks, commercial paper conduits, finance companies, and borrowers in structured finance, asset securitization, and secured lending transactions. He also handled various matters involving corporate-related issues, including articles of incorporation and similar items.

In August 2009, Courtney returned to Louisiana and was employed as an associate in the Monroe, Louisiana office of the firm. He left the firm in November 2012 to take the position of Assistant United States Attorney in the Civil Division of Office of the United States Attorney, Shreveport, Louisiana, where he served for two (2) years. While in the United States Attorney's office, he was designated the Section Chief of the Financial Litigation Unit. On November 1, 2014, Courtney returned to the firm as an associate in the Baton Rouge office where his practice includes general federal litigation, school law, employment, and contract drafting.

Mr. Joiner is licensed to practice law in both Louisiana (admitted April 2010) and Illinois (admitted November 2007). He is a member of the Louisiana State Bar Association and its Minority Section. He serves on the Board of Trustees of the ULM Athletic Foundation.
View all Attorneys